Healthy Chewy No Bake Granola Bars
Healthy Chewy No Bake Granola Bars Recipe: The only recipe for granola bars you'll ever need. Easy, delicious and customizable portable snack or breakfast treat packed with nutrients and flavor! It makes a great homemade Christmas gift as well!

I've made these granola bars as a homemade birthday gift for my mother-in-law. They came out Christmas-inspired, since her birthday is in December and I wanted to use pomegranate seeds. If you are looking for granola bar recipe that is actually healthy, easy and delicious, look no more. They are everything you expect perfect granola bars to be: healthy, nutritious, chewy, easy to make, adjustable to your favorite ingredients, and very delicious. In fact, I'm going to make a second batch just for myself today.
As many of you know, I'm heavily pregnant at the moment and there are less than 3 weeks left until we finally meet our baby. We couldn't be more excited about it! I don't have weird pregnancy cravings like pickles with ice cream or donuts with ketchup but I do get munchy for snacks and sweets throughout the day.
These healthy granola bars are a perfect solution, since they are portable and satisfy my sweet tooth while being packed by nutrients and flavor! Whether you are pregnant or not, these granola bars are ideal snacks or quick breakfast treat. I can imagine them being a great  snack for kids for literally any occasion.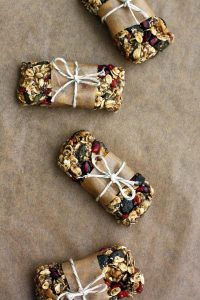 Besides, once you make them, they will be always at hand, since you can store them in the fridge for up to a month (if you don't use pomegranate seeds. If you do, then the storage time will shorten to 10-14 days, but still!). I wouldn't be able to store them for so long though, because I'm pretty sure they would be gone in a couple of days.
If you are looking for an easy last-minute homemade food gift for your loved ones, these healthy granola bars is a perfect option. I know, it's all about cookies and chocolate this time of the year, but I'm sure that people who try to eat healthier would appreciate a gift like that.
How to Make Healthy Chewy No Bake Granola Bars
As I mentioned, these granola bars are customizable to your favorite grains, nuts, seeds, dried fruits or berries and sweeteners, so feel free to adjust them to your taste. I used old-fashioned rolled oats, goji berries, pomegranate seeds, pumpkin seeds, chia seeds, walnuts and cinnamon as a dry base.
You'll need a liquid mixture to hold it all together and to sweeten your future granola bars. You can use maple syrup or honey as a sweetener, and a mixture of dates and liquid coconut oil as a binding agent.
I recommend you to quickly toast nuts, oats and pumpkin seeds on the stove for a couple of minutes before using them to bring out the flavor. Mix them well with the rest of the dry ingredients. Blend pitted dates, maple syrup or honey and liquid coconut oil until smooth. Combine dry and liquid ingredients and add pomegranate seeds (if using).
Line a 26 x 17 cm (7 x 10.5 inches) or similar size baking pan with parchment paper and gently spread the mixture evenly across bottom. Press it down very firmly using the base of a glass. Chill the mixture in the freezer for at least 40 minutes, better 60 minutes until firm.
Lift the parchment paper and adjust the shape of the edges to your liking. Put into 12 bars with a sharp knife. If you want to give them as gifts: Wrap each bar in a parchment paper strip and decorate with a stripped string. Enjoy!
So, here is the recipe for my healthy chewy no-bake granola bars that you will fall in love with!
Here are some more Christmas gift ideas for you:
Have an awesome pre-Christmas time and enjoy the holidays on the fullest!
Love,
Elena
Save
Save
Save
Save
Save
Save
Save
Save