Super refreshing and healthy Ayran (Turkish yogurt drink) recipe ready in 5 minutes with 3 simple ingredients. Perfect thirst-quencher on a hot summer day!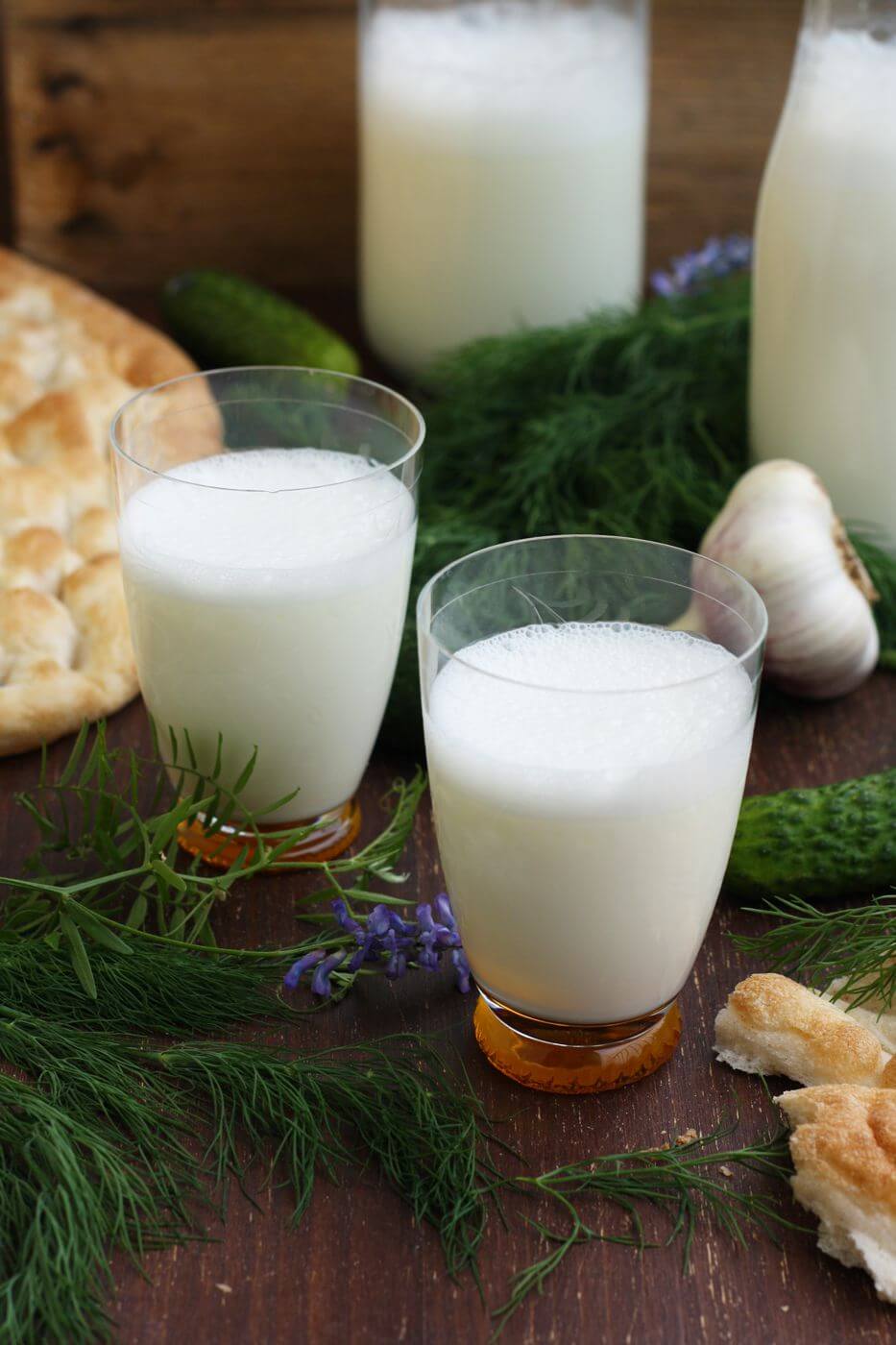 Summer is not over yet! We are expecting a heat wave here in Hamburg, so I'm getting prepared with this homemade ayran. I've been enjoying it for years, but the idea of making it by myself never came to my mind up until recently. Now I only regret that I didn't do it earlier! It's super easy and quick, as well as delicious and refreshing! It literally takes 5 minutes of your time and 3 simple ingredients, that include water, yoghurt and sea salt.
I'm sure that many countries claim that ayran was first made by them, in fact the origins of this drink go back to 1000 CE Armenia. It is widely consumed in the Middle East, especially in Turkey, where it is considered a national drink, but also in Iran, Azerbaijan, Bulgaria and Arab countries. I first tried it in Turkey and immediately fell in love with it, so for me it's a Turkish drink.
Health Benefits of Ayran
One of the things I love about ayran is its ability to rehydrate your body when it's hot outside. Sea salt (unlike highly processed table salt!) contains numerous minerals and nutrients your body needs on a daily basis, especially when you are sweating. Adding sea salt to your beverages satisfies your thirst and keeps your body hydrated longer. In addition, ayran contains yoghurt, which is rich in protein, natural probiotics, vitamins and calcium. It keeps to regulate your digestive system and strengthen your body's natural defense mechanisms.
How to Make Ayran
As I said, it takes 5 minutes and 3 ingredients to prepare ayran. Thick Greek yogurt would be the best choice for this recipe. I found that 1:1 ratio of water and yogurt gives the best consistency. You can experiment with the ratio, depending on how thick you want it to be. The same with the amount of sea salt: I put 1 teaspoon for every 500 ml (pint) of yogurt, but you can feel free to adjust it to your taste. There are some interesting ways you can upgrade the basic recipe. Experiment with adding:
Chopped dill
Finely grated cucumber
Minced garlic
Chopped mint
Chopped parsley
Freshly ground black pepper
Chopped cilantro
Ground cumin
Let me know if you have other ideas in the comments below!
I like to serve ayran with Turkish flatbread or boerek with spinach and feta cheese, for a quick and delightful snack. It will be a great addition to any dinner or summer barbecue table as well.
See the recipe below and stay hydrated with this refreshing yogurt drink!
Print
Ayran: Turkish Yogurt Drink
Servings
250
ml or 1/2 pint
Ingredients
500

ml

or 1 pint plain Greek yoghurt

500

ml

or 1 pint cold water

1

teaspoon

finely grated sea salt

chopped dill / parsley / cilantro / mint / grated cucumber / minced garlic / ground cumin / black pepper

optional
Instructions
Nutrition
Calories:
131
kcal
|
Fat:
8
g
Cheers,
Elena
Save
Save