50 delicious and healthy vegan recipes with pesto, including pasta, pizza, salad, soup, sandwiches, wraps, casseroles, bowls, bread and so much more! These unique pesto recipes will surely impress vegan, vegetarian and carnivore pesto lovers! Lots of gluten-free, kid-friendly and allergy-friendly options!

Who doesn't love pesto with pasta? But did you know you can use it for salads, pizza, soups, sandwiches, casseroles and so much more! Here are 50 mouthwatering healthy vegan recipes that use pesto in an unconditional way.
Is Pesto Vegan Friendly?
Traditional and store-bought pesto contains Parmesan cheese, which is not suitable for vegetarians. Good news is that you can make your own vegan pesto that taste just as good as the original with these 5 simple ingredients:
Fresh basil;
Macadamia nuts;
Garlic;
Nutritional yeast;
Olive oil.
The recipe comes together in a minute. All you need is to blend everything together adding a little water and season with salt and pepper to taste.
Make sure to check my vegan pesto recipe and you'll never go back to the store-bought pesto! This pesto is hands down the best one I've ever tried.
Is Pesto Healthy?
Short answer: Yes, it is! All the ingredients used in vegan pesto are healthy and should be a part of a well-balanced diet. Long answer: I described the health benefits of pesto in detail in the above-mentioned vegetarian pesto recipe post.
You use any other leafy greens instead of basil to make your pesto extra nutritious and flavorful. Examples are wild garlic pesto and kale pesto that are both tasty and nutrient-dense.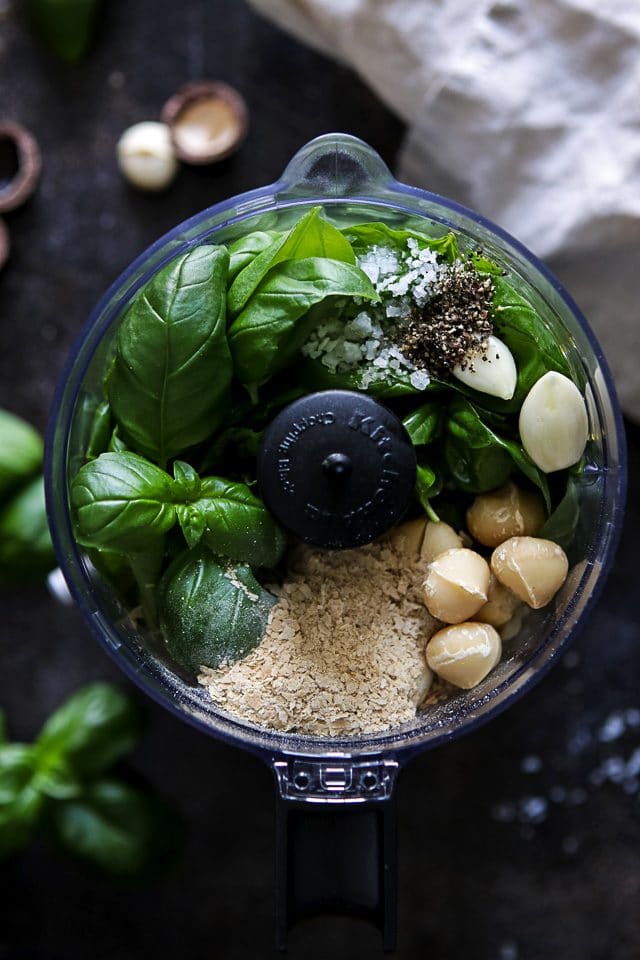 What Goes Well with Pesto?
Pesto is perfect with pasta. But not only! Here are some of the ways you can use pesto to shake things up in the kitchen:
Pizza;
Salads;
Soups;
Casseroles;
Bowls;
Sandwiches;
Wraps;
Dips and spreads;
Bread.
Check the recipes below for ideas and don't forget to share which ones you like the most!
Vegan Pesto Pasta Recipes
Creamy, delicious, healthy, satisfying vegan pesto pasta is the perfect marriage of comfort food and culinary art that comes together quickly and simply.
Healthy yet creamy alfredo pasta sauce packed with vegetables and with a hint of pesto! It's low-fat, nut-free, super easy to make and packed with protein (thanks to the cauliflower)!
Creamy Thai pesto linguine is the perfect Asian Italian fusion that comes together quickly and easily!
This vegan pizza pasta bake recipe is perfect for those who are craving a pizza night in but just don't have the time to make their own dough. It's easy, very family and kid friendly and so quick to make!
These Pesto Zucchini Noodles are covered in a delicious nut and dairy-free avocado pesto. It's the perfect quick, easy and healthy weeknight meal.
More Vegan Pesto Pasta Recipes:
Vegan Pesto Pizza Recipes
This easy vegan naan pizza recipe is a definite weekday favourite! Topped with vegan pesto, sweet potato, dairy-free cheese, red onion, spinach and walnuts.
Step up Pizza Friday with this Vegan Pesto Pizza with Balsamic Glaze. It is fresh, green and simple. Perfect pizza for Spring.
This chickpea crust pizza with walnut pesto is a great healthy grain-free option to satisfy your pizza craving. It's also gluten-free and vegan!
More Vegan Pesto Pizza Recipes:
Vegan Pesto Salad Recipes
Vegan, Oil-free Pesto Tomato Chickpea Salad, is a delicious, healthy way to use up Summer's bounty of tomatoes and basil!
This Easy Vegan Pesto Pasta Salad with corn and green beans is perfect for BBQs and potlucks!
This festive vegan pesto pasta salad with avocado and pomegranate seeds is perfect for your holiday menu!
More Vegan Pesto Salad Recipes:
Vegan Pesto Sandwich and Wrap Recipes
Mega-easy vegan pesto grilled cheese. 5 ingredients + BIG FLAVOR. Marinated tomatoes and balsamic glaze elevate this simple sandwich into a gourmet treat.
This grilled summer vegetable sandwich with pesto makes a perfect summer lunch! Zucchini, summer squash, and red bell pepper doused in balsamic-thyme marinade, grilled to perfection, and then piled onto pesto-smeared artisan rolls.

These pesto chickpea sandwiches are a flavor explosion! Smashed chickpeas with 5-ingredient collard greens pesto spread onto whole grain bread with sprouts, tomatoes, and onion.
More Vegan Pesto Sandwich Recipes:
Vegan Pesto Dinner Recipes
Health plus deliciousness equals this Sweet Potato Beet Buddha Bowl with Pistachio Pesto! Make eating enjoyable again by feeding your body the food it craves.
This Instant Pot Minestrone recipe is quick, easy, hearty, and delicious. Serve your minestrone soup with a chunk of crusty bread for a warming Italian vegetarian dinner.
These roasted potatoes with pesto make a simple side dish with a vegan, dairy free, Whole 30 option!
More Vegan Pesto Dinner Recipes:
Other Vegan Pesto Recipes
Beet hummus is made with oven roasted beets, chickpeas, tahini, olive oil, lemon juice and garlic. It's a vibrant and healthy snack or appetizer and I've topped mine with homemade basil pesto and parsley. So much flavor!
This Creamy Cauliflower Pesto Dip is oil-free, dairy-free, vegan and delicious! It makes for a great, healthy appetizer for parties, or just to snack on.
Tomato Tartlets with Spinach Pesto are the perfect party treat. Your omnivore friends probably won't even realize that they're vegan!
Which ones of these delicious vegan recipes with pesto did you like the most?