The only Vegan Pesto recipe you'll ever need! This delicious, cheesy and healthy vegan pesto sauce contains 5 ingredients and only takes 5 minutes to make. Serve it with pasta, bread, grilled vegetables or potatoes. Only 186 calories per serving!
Do you already Follow my blog with Bloglovin?
Pesto is one of the most loved condiments in my household. We consume a LOT of it and together with Sicilian pesto, green pesto is one of my all-time favorites.
There are many vegan versions of green pesto I've tried over the years (hello, vegan kale pesto) but after I tried this one, I think I found the best one.
If you are looking for THE BEST vegan pesto, look no more, because it's the only vegan pesto recipe you'll ever need! And here is why. This pesto is:
Creamy;
Delicious;
Versatile;
Cheesy (!);
Freezable (perfect for meal prep);
Healthy;
Nutritious;
Gluten-free and dairy-free;
Easy and quick to make.
The secret ingredient here is macadamia nuts. I must say, I've only tried them recently but I became a huge fan. Together with nutritional yeast, they give a lovely cheesy touch to the pesto that is so hard to replicate in vegan foods.
This vegan pesto freezes perfectly in ice cube trays, so feel free to double or triple the batch if you want to meal prep.
I made it my "go-to" condiment and you should too!
Health Benefits of Vegan Pesto
This vegan pesto is so nutritious you won't believe it! Sometimes food is truly a medicine and this is exactly the case with this pesto.
Let's start from basil, a unique source of vitamin K, manganese, essential oils and antioxidants.
It has some amazing health-protecting properties like anti-bacterial and anti-inflammatory effects, as well as analgesic and immune-boosting benefits.
Macadamia nuts are great for healthy fats, antioxidants, essential vitamins and minerals like vitamin A, B vitamins, folate, copper, manganese and iron. They are good in fighting disease and help you reduce weight.
Macadamia nuts keep your nervous system, brain, heart and bones healthy, while reducing inflammation and assisting in healthy digestion.
Olive oil has a number of health benefits as well, which you probably have heard of. Being rich in healthy fats, it boosts your metabolism, prevents aging, improves digestion and prevents inflammation, just to mention a few. Here is the full list of the health benefits of olive oil.
I recommend using good quality extra virgin olive oil, like cold-pressed organic La Tourangelle extra virgin olive oil.
Nutritional yeast is good for your hair, skin and nails. It is good for your immune system and contains immune-boosting, antibacterial and antiviral compounds. It helps your digestion and is recommended to be consumed during pregnancy to prevent birth defects.
I recommend Simply Organic nutritional yeast flakes that are great for this recipe.
How to Use Vegan Pesto
You can use this pesto in so many ways! Here are some of them:
The most obvious choice is delicious vegan pasta with pesto;
Use it as a spread for you toast;
As a dip;
As a pizza sauce;
As a salad dressing;
With cauliflower rice;
With normal rice;
In sandwiches and burgers;
With baked potatoes;
With roasted vegetables;
Bake it into bread (I urge you to try it!)
The list goes on and on. As you can see, this vegan pesto can be used in so many dishes, being one of the easiest sauces you can make at home!
How to Make The Best Vegan Pesto
Traditional pesto is made of fresh basil leaves, garlic, olive oil, pine nuts, salt, pepper and Pecorino cheese. In my vegan pesto, I keep all the ingredients except for cheese and pine nuts that I substitute with macadamia nuts and nutritional yeast.
Of course you can substitute any leafy greens for basil leaves and play around with other ingredients. Feel free to do so! But I would like to stick to the traditional recipe this time, making the vegan version as close to the original as possible. And I think I managed to do it.
The recipe will take you 5 minutes to make. Assemble all the ingredients in a blender and pulse until smooth. That's it! Here is the full recipe for you:
Print
The Best Vegan Pesto Recipe
The only Vegan Pesto recipe you'll ever need! This delicious, cheesy and healthy vegan pesto sauce contains 5 ingredients and only takes 5 minutes to make. Serve it with pasta, bread, grilled vegetables or potatoes. Only 186 calories per serving!
Ingredients
2

cups or 140 g

fresh basil leaves

2/3

cup or 90 g

raw macadamia nuts

2

cloves

garlic

2

tablespoons

nutritional yeast

3

tablespoons

extra virgin olive oil

3-4

tablespoons

water

sea salt and freshly ground black pepper, to taste
Instructions
Add basil leaves, macadamia, garlic and nutritional yeast in a cup of a food processor or blender and blend until a thick paste forms, scrapping sides. Add extra virgin olive oil and water, one tablespoon at a time, until smooth. Add sea salt and freshly ground black pepper to taste. Enjoy!
Notes
Refrigerate leftovers in a sealed container for up to 1 week. Freeze in an ice cube tray for up to 3 months. Serve with pasta, as a bread spread, as a dip and salad dressing, as a pizza sauce, in soups, with rice or cauliflower rice, baked potatoes, roasted vegetables or bake it into bread.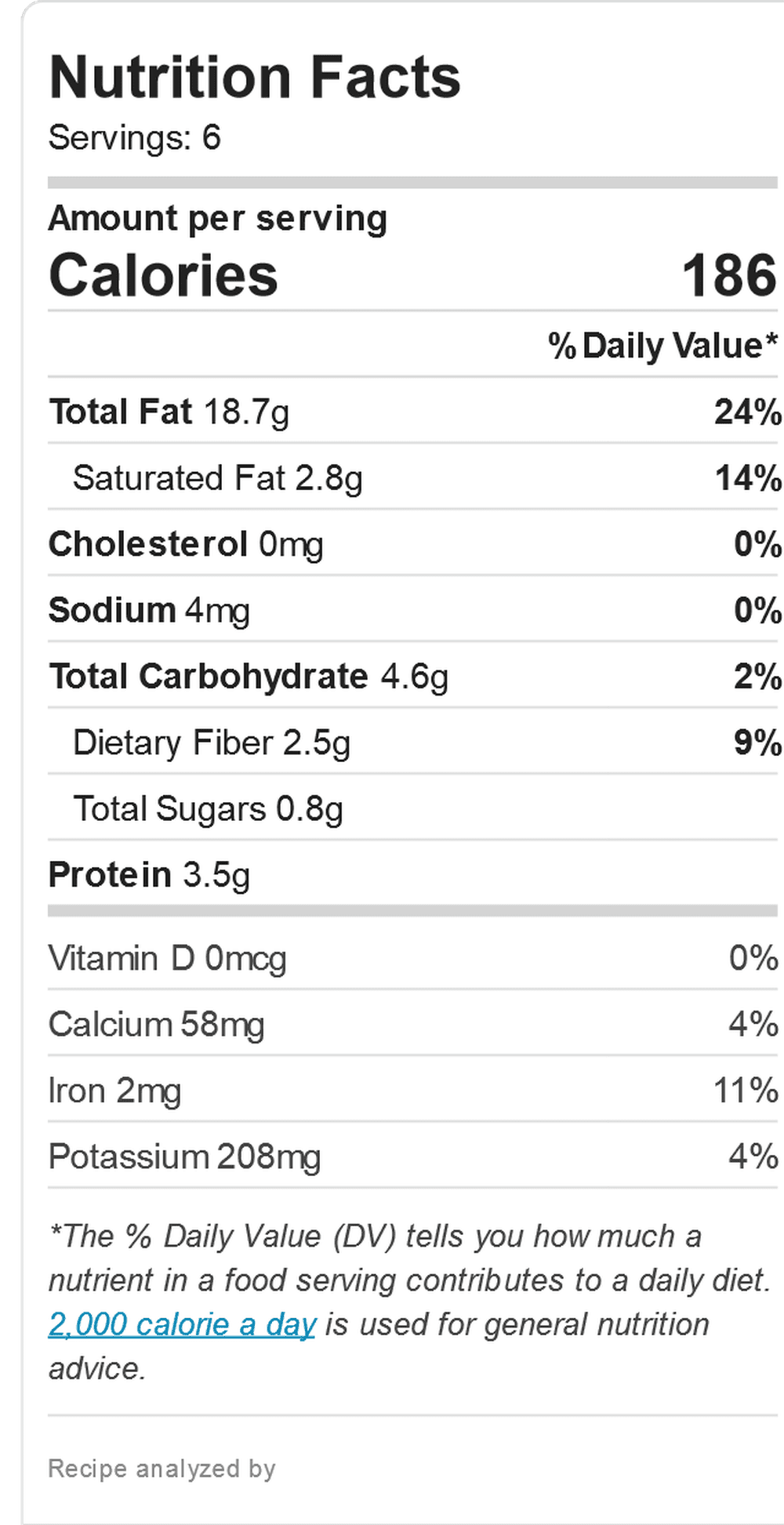 Love,
Elena