A collection of 20 of the most delicious vegan tempeh recipes including tempeh bowls, sandwiches, tacos, soups, curries and pasta dishes. Be inspired by these creative ways to incorporate tempeh into your vegan diet!
What Do You Do With Tempeh?
Tempeh is a rising star of vegan protein sources, versatile, delicious and nutrient-dense. It is similar to tofu but even better in its abilities to add protein and texture to dishes thanks to its meaty texture.
Tempeh is great for vegan ground beef (especially vegan taco meat), vegan bacon and vegan ragu-type pasta sauces (my favorite is vegan bolognese).
Tempeh is perfect for marinating as it soaks up the full flavor of a marinade relatively quickly (20 minutes is enough in most of the cases).
My favorite tempeh marinade gives it a smoky and slightly spicy flavor making it perfect for vegan bacon.
To learn more about tempeh and different ways to cook it, make sure to check my ultimate guide on how to cook tempeh that I've recently published.
It covers all the things you need to know about tempeh like what it is, its nutritional profile, where to buy it, how to prepare it, how to store it, and finally, how to cook it.
If you are new to tempeh, I hope you find lots of useful information there!
Vegan Recipes with Tempeh
Since tempeh is incredibly versatile, you can add it to a variety of vegan dishes like:
sandwiches & tacos,
bowls,
stir-fries,
salad toppings,
pasta dishes,
soups & currys,
pizza,
meatballs,
stuffed veggies,
BBQ ribs,
and so much more!
Cooking with tempeh is easy once you know what you are doing, but if you need a bit of inspiration, here are my favorite recipes with tempeh to get you hooked!
I selected 20 of the best, most delicious and easy vegan tempeh recipes from my food blogger friends and listed them below. Most of them are vegan main courses and many are gluten-free or have gluten-free options.
Feel free to add them to your weekly vegan menu and let me know how you like them 😉
Vegan Tempeh Sandwiches, Tacos & Burgers
This smoky Vegan BLT Tempeh Sandwich is a whole lot healthier than your traditional BLT, but you're guaranteed to be just as satisfied after your plate is polished off.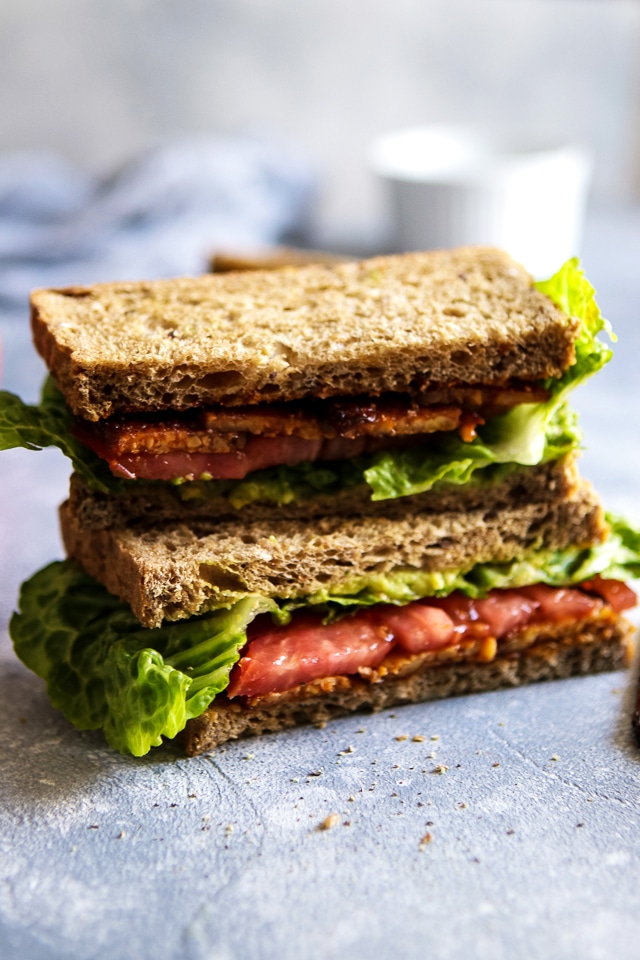 Happy Kitchen.Rocks
Chipotle corn salsa, fresh tomato salsa, avocados and mouth-watering tempeh taco meat come together and create the BEST vegan tempeh tacos you'll ever have.

Happy Kitchen.Rocks
These delicious vegan sloppy joes are the perfect addition to your vegan sandwich collection! Not only they are a fantastic option for a quick and healthy meal, but they are also incredibly easy to make!

This vegan eggplant lasagna is a hearty yet healthy gluten-free dish full of flavor and nutrients and is just perfect for a family dinner. If you are looking for a lighten-up version of a classic lasagna without any dairy, cheese or noodles, this delicious vegetarian lasagna with eggplant checks all the boxes!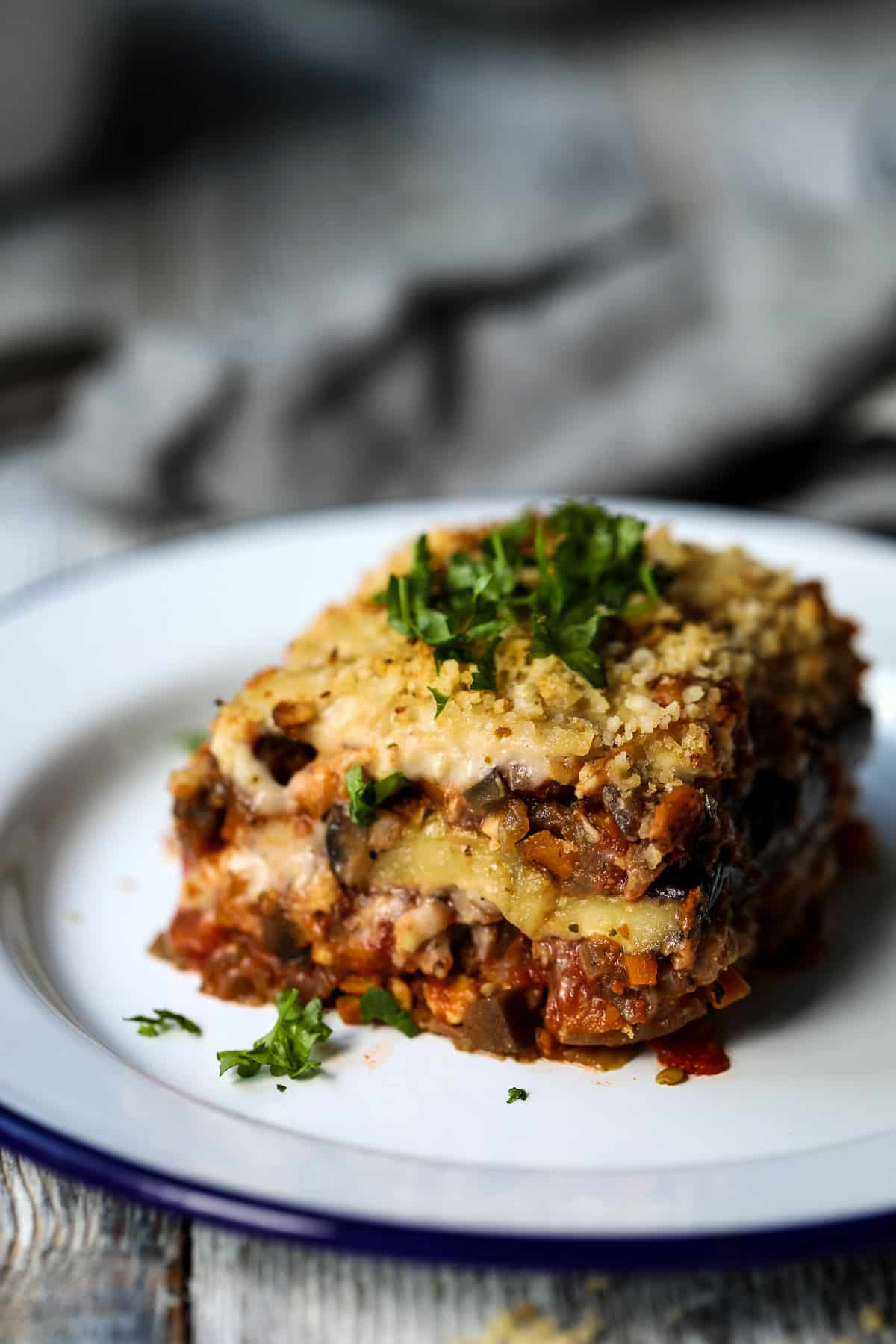 These creative Vegan Bao Burgers with Peking Tempeh are loaded with gorgeous Asian flavors, packed with protein-rich tempeh and just plain delicious.
Easy pan-fried tempeh tostadas topped with avocado cream, roasted tomato corn salsa and spicy tempeh make for a quick and protein-rich meal or snack that's plant-based and vegan and full of flavor.

Vegan Tempeh Bowls
This vegan rice bowl with smoky tempeh makes for a great hot dinner and cold lunch on the go. Easy to make, high in protein, and absolutely delicious!
Wholesome Asian greens bowl with coconut aminos marinated tempeh drizzled with tahini sauce! Such a filling, nourishing and protein-packed vegan bowl that you can easily customize.
A healthy vegan bowl of red rice, red cabbage salad and Balinese style fried tempeh and toasted peanuts with a spicy fresh tomato and chilli sambal.
This flavorful Thai basil tempeh stir fry is a healthy vegan version of the traditional Thai dish "pad krapow gai" (Thai basil chicken). Amazing quick and easy stir fry recipe for those busy days.
Vegan Tempeh Pasta Dishes
Happy Kitchen.Rocks
This vegan tempeh Bolognese is gently simmered with classic Italian herbs, garlic, and tempeh ground "beef" that is sure to become your go-to vegan pasta sauce that comes together in just 20 minutes!
Perfectly browned tempeh cooked in a flavorful tomato red wine cacciatore sauce with mushrooms and herbs. Perfect addition to pasta, mashed potatoes or rice.
Creamy, smokey and spicy vegan cashew-based chipotle mac and cheese is topped with spicy and crunchy chipotle marinated tempeh crumbles and scallion greens for a delicious plant-based family dinner.

Vegan Tempeh Soups & Currys
This easy & super flavorful vegan and gluten-free chili is loaded with beans, tempeh, butternut squash, vegetables & fire-roasted tomatoes and is ready in under an hour!

This vegan Tempeh Tikka Masala packs a complex flavor and has a rich nutritional profile. Tempeh is cooked with Indian spices, then toasted added to luscious Tikka Masala sauce.
Khao Soi is a creamy Thai coconut curry soup with cashew marinated tempeh, rice noodles and peanuts. A flavorful and healthy vegan take on the traditional Khao Soi soup!
Other Vegan Tempeh Recipes
Delicious acorn squash stuffed with tempeh sausage, lentils, kale, and roasted pepitas come together to make a heavenly festive vegan meal.
These delicious Almond Tempeh Vegan 'Meatballs' are a great way to add protein to salads, spaghetti or sandwiches. They are naturally gluten-free and easy to make with just a few staple ingredients.

This easy gluten free Vegan Taco Lasagna with a stunning vegan cheese cashew sauce and homemade tempeh red sauce only requires a handful of ingredients and makes for a great family dinner!


Smoky, savory, and slathered in barbecue sauce, these vegan ribs are made from tempeh! Cook them in the oven or on the grill for a meatless summer feast!
Which one of these tempeh recipes would you like to try first? Leave a comment below! 🙂