If you are looking for a way to use tahini paste other than hummus, look no further. This collection of 82 unique, delicious and healthy recipes with tahini will surely give you some inspiration to make the most out of your tahini jar. All recipes are vegetarian or vegan with many gluten-free options.
Tahini is great in hummus, but did you know you can also use it for salad dressings and dips, sandwiches, roasted veggies, pasta, smoothies, pancakes, desserts and so much more! Here are 82 delicious and healthy vegetarian (and vegan) recipes that use tahini in an unusual way.
Unless you want to make your own tahini paste, I recommend to use Pepperwood Organic tahini paste that is 100% organic, vegan and unsalted, made from unhulled sesame seeds.
You can easily make your own tahini paste, just watch the video below:
What Do You Do With Tahini?
You can use your tahini jar in a variety of ways. Here are some examples:
Sauces and dips;
Main course and sides;
Salads;
Sandwiches;
Breakfast dishes;
Drinks and smoothies;
Desserts.
You'll find plenty of inspiration below for each of these categories.
How Long Does Tahini Last?
Unless stated otherwise on the package, keep an unopened tahini jar in a cool and dry place (like pantry) for up to 6 months. Once opened, refrigerate for up to 6-12 more months. Homemade tahini paste can be stored in the same way.
Can You Freeze Tahini?
Yes, absolutely! Freeze it in ice cube trays, then transfer to a freezer bag and seal. Defrost before using and enjoy!
Tahini Recipes
From basic tahini paste to tahini burgers, desserts and Middle Eastern-inspired sides, here are some of the best vegan and vegetarian recipes with tahini as a star ingredient.
This foolproof vegan tahini paste recipe takes 5 minutes and 2 ingredients to make! This creamy, rich and luxurious tahini paste is irreplaceable in hummus and is widely used for salad dressings and roasted vegetables.
Sauces and Dips with Tahini
by Happy Kitchen.Rocks
This vegan tahini dressing is the sauce you've been waiting for to drizzle over your vegan bowl to make it even more delicious. You can also use it on falafel, salads, or anything else you want a delightfully sweet and tart creamy vegan dressing for.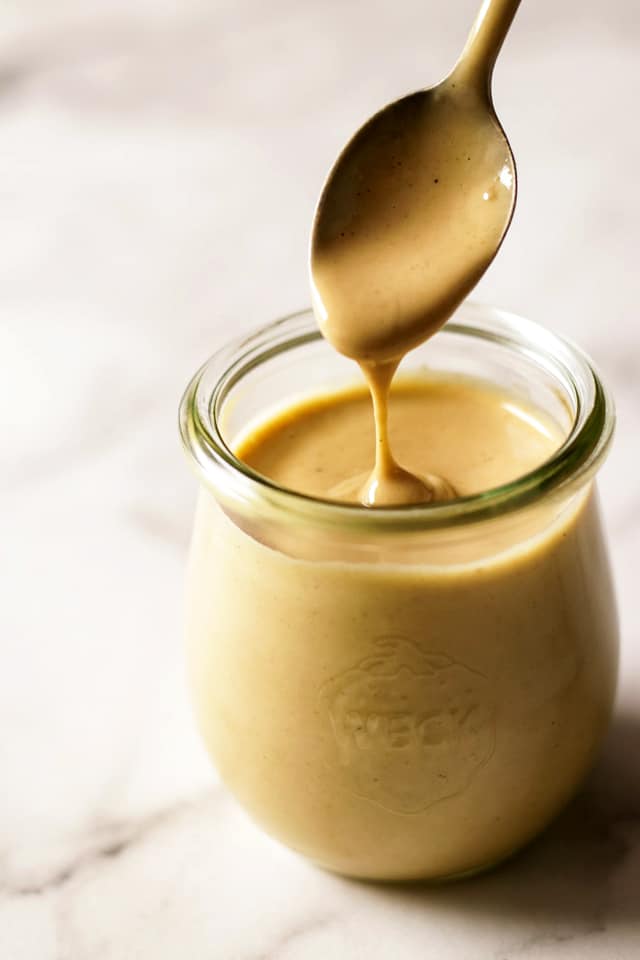 Lemon tahini dressing is oil-free, dairy-free and vegan. It's a tasty, creamy, zesty salad dressing that's super versatile and adaptable. Even better, it can be made quickly with just a handful of ingredients.
3. by Midwest Foodie
Less than 5 minutes from start to finish – this simple, homemade, vegan hummus is loaded with fiber and protein. It's healthy AND delicious, which means you can feel good about feeding it to your family.
4. by Happy Kitchen.Rocks
Healthy vegan Roasted Beetroot Hummus served with pita chips is a delicious colorful appetizer perfect for Valentine's Day. This creamy beetroot hummus packed with nutrients will surely get you in the mood!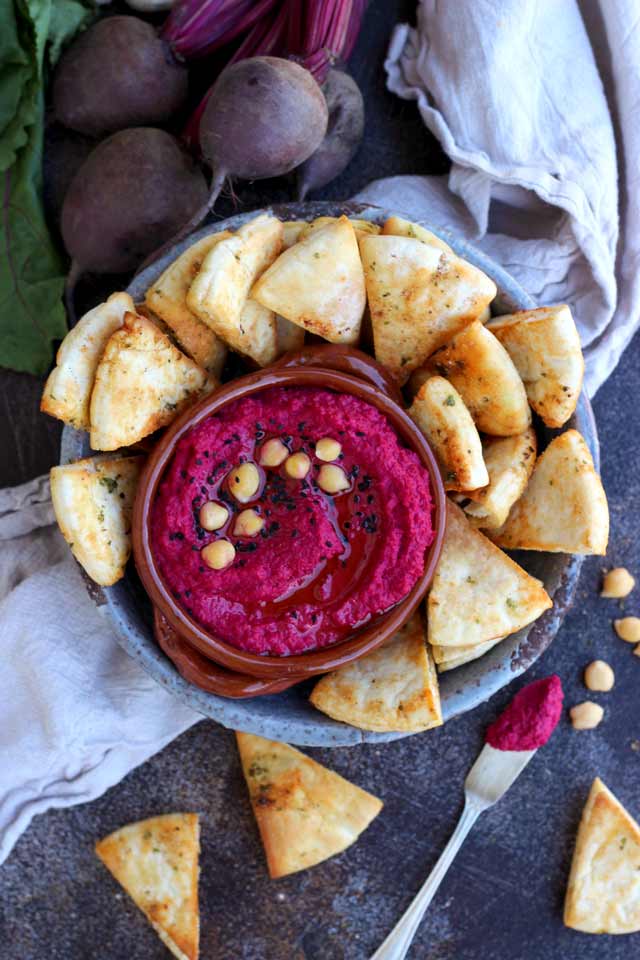 This green tahini sauce is ready in less than five minutes and works with so many dishes adding fresh flavor and beautiful color.
Baba Ganoush is a creamy roasted eggplant dip flavored with tahini and aromatic oriental spices that pairs so well with fresh veggies, bread and crackers.

This Farmers Market Hummus is topped with juicy heirloom cherry tomatoes and basil ~ they're an unexpectedly perfect complement to a classic Mediterranean chickpea dip ~ it's summer in an appetizer!
Delicious twist on traditional hummus incorporating smoked pumpkin for a comforting fall flavor.
Instant Pot Hummus is a delicious dip made from chickpeas. It has a nutty, garlicky, lemony flavor, and is a little earthy. Made from scratch using dry chickpeas, this pressure cooker hummus recipe is a favorite party dip recipe!
Everyone needs a cool, creamy tahini-based sauce to use for dipping, as a dressing, or to drizzle on top of their favorite roasted veggies!
Five delicious and healthy variations on creamy tahini dressing. Great for so much more than just salads!
Foul Mudammas is a Middle Eastern broad bean or fava bean dip made with tomato, onion, garlic, lemon and tahini. Served as a breakfast food or part of the Middle Eastern Mezze.
Main Courses and Sides with Tahini
These easy roasted whole carrots are served with a quick tahini yogurt sauce, and make a gorgeous and delicious side dish.
14.
Juicy vegan falafel burger in a pretzel bun served with creamy tahini sauce and crispy and tender sweet potato fries. The best falafel burger I've ever had!
A healthy baked sweet potato recipe stuffed with spinach and white beans and tangy tahini sauce.

This whole roasted cauliflower is coated in a spicy tandoori paste before cooking and then served with a creamy tahini sauce for an impressive vegetarian main course that's healthy too!
The Ultimate Vegan Buddha Bowl is loaded with nutrient dense vegetables, healthy fats, the best vegan protein, and healthy grains. This Buddha bowl is complete, well balanced meal in just one serving and isn't hard to make. The vibrant colors and rich flavors make it incredibly satisfying and you'll want to enjoy this vegan bowl of yumminess again and again.
Tofu cubes are pan-fried in sesame oil to a crisp, and then drenched in creamy maple-tahini-sriracha sauce to make this scrumptious vegan meal that comes together in minutes.
Couscous Stuffed Eggplant topped with a fresh Lemon Tahini Sauce is a delicious way to serve eggplants. Vegan and Dairy-Free!
20.
Crispy and healthy baked falafel with hazelnuts drizzled with creamy lemon-mint sauce: easy-to-make, low-fat and so delicious! Much better than deep fried!

Amazingly delicious and super easy to make Gnocchi with Garlic Cream Tomato Sauce. Entirely vegan, gluten free and made with tahini for creaminess and taste. No need for cream or other dairy.
22.
Enjoy tasty, hearty rainbow vegan hummus wraps for a lunchtime treat. Make this versatile, fast, easy recipe for vegan wraps in minutes and enjoy with your favorite dressing.
Healthy Quinoa Bowls with Kale, Carrots and Tahini Turmeric Dressing: seasonal vegan and gluten-free dinner. Delicious, well-balanced and flavorful dish.

These Grilled Eggplant Kebabs are grilled until soft and lightly caramelised in a tahini satay marinade. A fun twist on the traditional satay recipes that is vegan, nut free & gluten free.
Roasted Acorn Squash Slices with Garam Masala are flavorful and easy to make. Topped with pomegranate seeds and pepitas, this beautiful side dish will take center stage on your table. And this recipe is vegan and gluten-free.
These Spicy Sesame Noodles are perfect when you have a craving for Chinese sesame noodles but also want a little kick. They're so easy to make and much healthier than takeout!
This Roasted Broccoli with Garlic & Basil Tahini Sauce will seriously knock your socks off. Who knew that veggies could taste so good! Warning: You will want this sauce on everything.
These Couscous-Stuffed Delicata Squash make for a beautiful and comforting dish, to adorn your holiday table, this year!
Carrot tahini quinoa veggie burger recipe! A super flavorful vegetarian burger topped with tzatziki and purple slaw. This will be your new favorite veggie loaded dinner.
This Tofu Kale Power Bowl with Tahini Dressing is packed with the nutrition power of baked tofu, kale, sweet potatoes, peas, peppers, hemp seeds, and tahini.
This Mushroom & Wild Rice Stuffed Acorn Squash is filled with caramelized onions, cauliflower florets, spinach, dried cranberries, and pecans. It's served with a drizzle of lemon tahini sauce. This comforting and colorful dish has a variety of texture, tons of flavor, and makes the perfect hearty dinner or side dish.

Super healthy and colorful vegan buddha bowl recipe, super simple, amazingly delicious and very satisfying plant-based dinner. Gluten-free.
Tempeh Stir Fry makes for an easy Asian themed healthy dinner ready in under 30 minutes. Made with Gailan and mushrooms, topped with a creamy spicy tahini sauce. Gluten Free and Vegan
This easy recipe creates a magnificent dish in both taste and presentation. Best yet, you can cook these meatless lentil meatballs in either their vegetarian or vegan preparations without losing any of their incredibly rich flavor.
Warm up with this comforting Tofu Sweet Potato Bowl with Tahini Sauce. It's FULL of amazing sweet and tangy flavors.
Za'atar Roasted Cauliflower with Yogurt Tahini Sauce takes your normal roasted cauliflower to a new level. Earthy and slightly sweet the za'atar is the perfect spice to add to your roasted cauliflower and is complimented nicely by the yogurt tahini sauce.
Salads with Tahini
This spinach salad is loaded with all sorts of good things! Fresh beets, earthy lentils, tangy goat cheese and crispy walnuts! Drizzled with an amazing tahini maple dressing! Every bite is filled with so much delicious flavors!
A fresh & juicy Butternut Squash Salad with sweet, roasted butternut squash pieces, peppery arugula, crunchy toasted hazelnuts, a grain of your choosing and a super delicious apple cinnamon dressing to bring it all together. It makes a lovely lunch, light dinner or side.
This mediterranean carrot salad is filled with chickpeas, royal raisins, feta, parsley and tossed with a creamy yogurt tahini dressing. Makes a great side salad for any cookout this summer!

This halloumi salad is made up of a few simple ingredients including kale, cannellini beans and cucumber and it's drizzled with a tahini yoghurt dressing for a light and healthy lunch or dinner.
This healthy Baked Tofu Kale Quinoa Salad with Glory Bowl Dressing recipe is the perfect all-seasons meal, and it is so simple to make. The savoury and delicious Glory Bowl Dressing is adapted from the notorious Whitewater Cooks cookbook and is a definite crowd pleaser.
This vegan falafel salad with a lemony tahini dressing is not only healthy, but also incredibly flavourful! It is a great vegan meal prep recipe that's easy and requires just simple, whole ingredients. Gluten-free and oil-free.
This Farro Salad with Basil Lemon Tahini Dressing is a delicious salad that can be made ahead of time, making it perfect for busy workday lunches or potlucks.
44.
Easy, Warm Vegan Roasted Cauliflower Salad with Orzo and Roasted Red Peppers in a basil pesto tahini sauce. This salad recipe makes me fall in love with cauliflower all over again.
This beetroot salad uses the entire beetroot: root, stems and leaves. The earthy beetroot and sweet apple pairs beautifully with the creamy lemon and tahini dressing, which brightens up the flavours. Vegan and gluten free. 200 calories per serving.
This delicious kale salad with roasted garlic tahini dressing is tossed with roasted sweet potatoes and kidney beans for a hearty meal or nutritious side salad!
Delicious Greek Salad with a vegan twist!
This crunchy, fresh broccoli apple salad comes together in a flash. It's the perfect healthy option for parties and potlucks.
This vegan chickpea salad recipe is healthy, hearty and full of flavor. It's made with nutritious ingredients like broccoli, zucchini, red pepper, red onion, almonds and lemon tahini sauce and is easy to make in just 15 minutes.
This delightful spring farro salad has roasted asparagus, broccolini, and radishes topped with dill, chives, and a mustardy dressing for a bright hit of spring flavor!
Sandwiches with Tahini
Pita Pockets with Roasted Veggies and Hummus Recipe: Healthy and delicious lunch meal you will look forward to. These vegan rainbow pita pockets are very easy and quick to make and can be eaten warm or cold.
This Lazy Falafel is SUPER easy to make, will take up less than 30 minutes of your time, and tastes every bit as delicious as the traditional version!
A delicious Chickpea Salad Sandwich. It's loaded with protein; full of fiber; and, super hearty! No cooking and takes less than 10-minutes to prepare. Lunch…is served!
These vegan ricotta and kale filo scrolls are perfect for a light snack or lunch and so easy to make!
This toasty broccoli rabe sandwich is stuffed with spicy, garlicky greens and topped with smoky vegan tahini sauce.
A vegan Apple-Walnut Chickpea Salad Sandwich that tastes like no other! It's made with an oil-free tahini dressing, gluten-free and ready in under 15 minutes.
Breakfast Dishes with Tahini
Step up your overnight oats with this delicious early fall combination! Maple tahini fig overnight oats are the perfect combination of sweet, savory, nutty and fruity. They're a great healthy, filling, make-ahead breakfast for busy mornings! (gluten-free, nut-free, vegetarian).

Tahini Chocolate Chip Granola Bars make a great homemade snack alternative to the empty calories of a store-bought granola bar. They are easy to make and the recipe does not use any refined sugar, which make these a healthy and nutritious snack or treat!
A sweet and crunchy maple tahini millet granola, made oil-free and free of refined sugar and full of healthy fats. Cardamom, coriander and golden raisins add a unique flavor.
Breakfast is so simple with this delicious Creamy Tahini Porridge recipe. It is just milk, oats, tahini, honey and almond nuts. Simple yet packed with flavour!
Delicious vegan buckwheat pancakes with the added nutty flavour of tahini and a lush, white chocolate sauce.
Tahini Oat Blueberry Crumble – warm juicy berries, salty-sweet streusel bits, and yogurt on top for a healthy snack or ice cream for a yummy summer dessert!
Popped sorghum balls are a healthy and delicious snack made in just 15 minutes from 6 wholesome ingredients!
Chocolate and sesame paste combine deliciously in these luscious vegan Tahini Truffles.
A warming bowl of tahini oatmeal with caramelised bananas, almonds and cacao.
Drinks and Smoothies with Tahini
Think of this Tahini Mocha Milkshake as a template for a flavored coffee drink, as there are three different ways to serve it to choose from.
A Strawberry Tahini Smoothie that's rich, creamy, sweet, and refreshing with no nuts, milk substitutes, or added sugar.