Pancake Sushi Rolls with Salmon and Avocado: An ultimate Russian – Japanese fusion food, perfect for breakfast, brunch or as an appetizer for a party.
It might sound crazy but pancake sushi rolls are one of my favorite dishes. Just think about it: smoked salmon and avocado slices bound by cream cheese, sprinkled with garden cress, seasoned with horseradish sauce and wrapped in thin Russian pancakes, that are sliced into bite-sized pieces and dipped in soy sauce. I could eat them for breakfast, lunch and dinner.
These rolls are just perfect for brunch or as an appetizer for a party! It's a whole new way to eat sushi for breakfast, which is great for us, sushi lovers! I like Philadelphia rolls so much but I can't imagine eating them with my morning coffee, and the reason is rice. My solution is simple: pancake sushi rolls! Whereas rice is too extreme for me as a breakfast food, pancakes are totally acceptable.
If you've ever tried Russian pancakes, you probably know that they are created for wrapping sweet or savory filling in them. I normally go with jam or condensed milk, but if I want something fancy, it can be caviar or smoked salmon. That's what these pancake sushi rolls were inspired by.
Russian pancakes are my favorite Russian food and sushi rolls are my favorite Japanese food, so why not make a fusion? It came out even better than I expected. Not only they taste great, but also they are very sturdy, as pancakes keep everything together nicely.
I was doing my best to eat healthy recently, so it might seem inconsistent that I post this not-so-healthy-pancake recipe on my blog. But sometimes you just need something as decadent and indulgent as pancake sushi rolls to feel like you are not missing out on anything in your life. Besides, avocado and salmon are actually good for you. There is nothing bad in indulging yourself once in a while with moderate amount of food you truly enjoy. You shouldn't feel guilty about eating it, because from time to time you just need a piece of chocolate tart or cheese balls. Moderation is the most important concept of healthy eating I'm trying to stick to.
I've stumbled upon a very interesting website which put a nostalgic smile on my face. It's called Eastern European Sushi and it showcases insanely creative ideas of Soviet dishes recreated to imitate sushi. Their website is in English, but they also have Eastern European English, which is just hilarious! 😀
So, back to my pancake sushi rolls. The first thing to do is to make a big pile of Russian pancakes. Don't worry, they are still tasty on the second and third day. Besides, you'll have a ready breakfast for the next days. Just reheat the in a microwave for 1 minute and they are just as good as freshly made.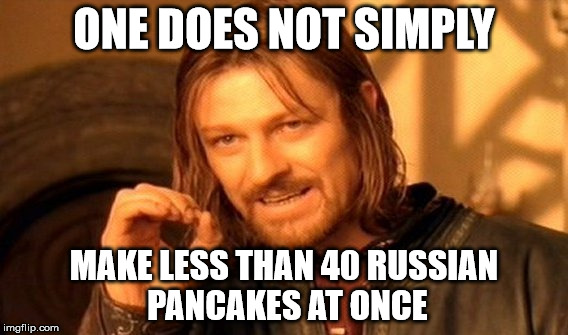 Once you have a big pile of pancakes, most of the work is done. Now you just need to wrap salmon-avocado filling and slice the long rolls. Check the recipe below for details:

Print
Pancake Sushi Rolls
Pancake Sushi Rolls with Salmon and Avocado: An ultimate Russian - Japanese fusion food, perfect for breakfast, brunch or as an appetizer for a party.
Ingredients
4

Russian pancakes

about 28 cm or 11 inches in diameter (click on the link for the recipe)

100

grams

or 3.5 oz cream cheese or Philadelphia cheese

100

grams

or 3.5 oz smoked salmon

4

teaspoons

creamy horseradish sauce

1

avocado

peeled, deseeded and sliced

4

tablespoons

garden cress

black pepper

wasabi paste

soy sauce, to serve
Instructions
Let your pancakes cool and place one of them on a working surface. Spread one quarter of the cream cheese over the lower third of the pancake. Arrange a quarter of sliced salmon and spread 1 teaspoon of creamy horseradish sauce. Put some avocado slices on top, sprinkle with 1 tablespoon garden cress and a pinch of black pepper.

Start folding the bottom of the pancake over filling, pressing evenly. Roll until the log is formed. Repeat 3 more times with the rest of the pancakes.

Slice each log into 4-5 individual pieces. Serve with wasabi paste and soy sauce. Enjoy!
Notes
The recipe makes 4 logs with 4-5 rolls each. Nutrition information is calculated for 1 serving (4 rolls)
Nutrition
Calories:
266
kcal
|
Carbohydrates:
11
g
|
Protein:
10
g
|
Fat:
20
g
|
Saturated Fat:
6
g
|
Cholesterol:
33
mg
|
Sodium:
305
mg
|
Potassium:
334
mg
|
Fiber:
3
g
|
Sugar:
1
g
|
Vitamin A:
430
IU
|
Vitamin C:
6.3
mg
|
Calcium:
92
mg
|
Iron:
15.4
mg
What is your favorite fusion food? I'd love to know your ideas!
Regards,
Elena
Save