Top-10 fall-inspired Vegan Appetizers for Thanksgiving or Christmas dinner party. This delicious vegan appetizer recipe collection is perfect for your vegan holiday menu!

Can you believe Thanksgiving is right around the corner? It seems like yesterday we were enjoying summer salads on our backyard now it's already time to think about my vegan Thanksgiving menu! Time sure does fly. So let's dig into all things fall with its cozy pumpkin spice lattes and apple pies!
Planning a vegan Thanksgiving menu might not be easy. I mean, how are you supposed to replace the turkey? But don't worry, I've got you covered! With these vegan Thanksgiving recipes you won't miss it at all, guaranteed!
I prepared the entire vegan Thanksgiving menu for you, from appetizers, soups and salads to main dishes, sides and desserts.
Make sure to check my favorite vegan Christmas recipes including festive German mulled wine (Gluhwein) that is to die for!
Each category has plenty to choose from, depending on your taste and budget. All recipes are from my fellow bloggers who are working hard to help you veganize your holiday menu.
All of the recipes are healthy and many are gluten-free. Why eat unhealthy food during holidays and then start a diet if you can have these delicious and healthy appetizers on your holiday table?
So, without further due, meet 10 best vegan appetizers for Thanksgiving. Let's dig right in!
Vegan Appetizers for Thanksgiving
Healthy vegan Roasted Beetroot Hummus served with pita chips is a delicious colorful appetizer perfect for the holiday season. This creamy beetroot hummus packed with nutrients is as delicious as it is pretty.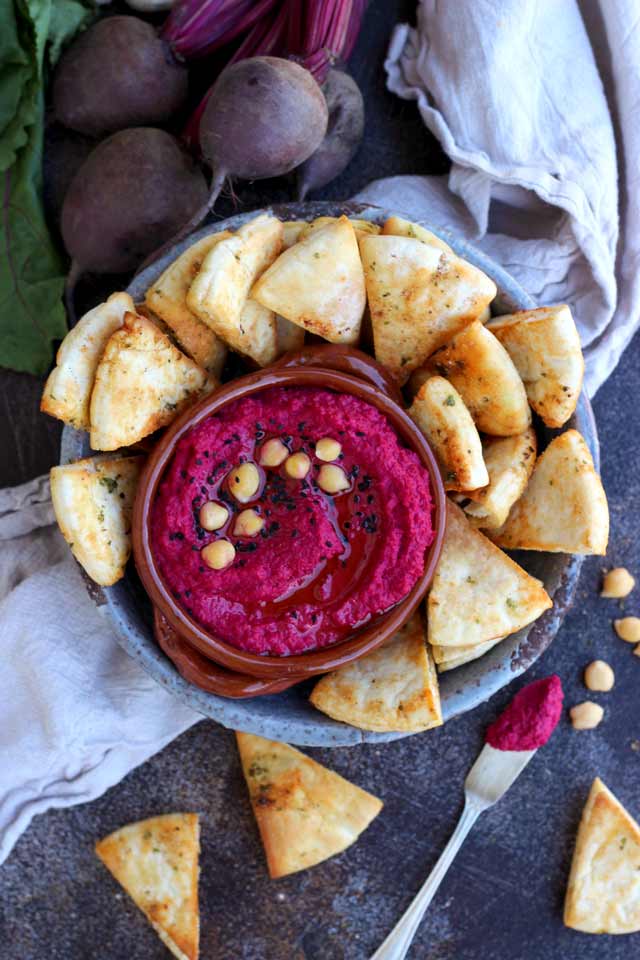 These festive vegan mushroom crostini recipe is an easy and impressive appetizer perfect for holidays. Crunchy baguette with grilled vegan mozzarella topped with sweet caramelized onions and mushrooms with a hint of balsamic and Dijon mustard will surely be a show stopper.

This is surely not your traditional appetizer but I dare you to give it a try! These easy and healthy Georgian Eggplant Rolls with Walnut Filling only require three ingredients and a few spices and they are absolutely gorgeous!
Smoky, sharp and sliceable – this Vegan Cheddar Cheese is a great choice for entertaining or everyday snacking. One of the most impressive vegan Thanksgiving appetizers to impress your guests!

Baba Ganoush is a creamy vegan roasted eggplant dip flavored with tahini and aromatic oriental spices that pairs so well with fresh vegetables, falafel, bread and crackers. Perfect for holiday entertaining!
This cranberry thyme vegan cheese ball is the perfect easy dairy free appetizer! So smooth, creamy, and flavourful everyone will love it. The festive colours make it a perfect addition to any appetizer table.
Creamy, dreamy, smooth and melty. This cashewless quick and easy vegan beer cheese dip is one of the most delicious vegan Thanksgiving appetizers!

This smooth and creamy pumpkin hummus recipe is a delicious and healthy way to celebrate autumn.

Easy and "cheesy" Herb Stuffed Mushrooms that are gluten dairy free and vegan friendly, packed with fresh parsley, mint, and sun dried tomatoes. Each little morsel is loaded with tons of savory and naturally sweet Umami flavor. Perfect make ahead vegan appetizer and side dish for your parties!
These tiny stuffed potatoes are absolutely beautiful, and, oh so delicious as hors d'oeuvres or the center part of a meal. Be sure the potatoes are tiny. And remember to hold back! Don't eat them all before your guests arrive!
Enjoy these delicious fall-inspired vegan appetizers for Thanksgiving and make sure to check my blog for other vegan Thanksgiving recipe categories (see the links above).
Share your favorite vegan appetizers in the comments. Which one did I forget to include in my list?