Easy Russian Borscht Soup
This easy one-pot vegetarian Russian Borscht recipe only takes 30 minutes to make! Delicious and wholesome winter soup full of nutrients!
What is Borscht?
Borscht is one of the most popular classic dishes of Slavic cuisine. It is a luscious vegetable soup, with red beet as the main ingredient, wholesome, flavorful, healthy and perfect for the cold season as it warms you up and comforts you when it's rainy and windy outside.
There is nothing like a warming bowl of this purple-red hearty soup with a spoonful of sour cream on top. It makes you feel cozy and warm and makes your home smell awesome.
Borscht is nutrient-dense and yet very comforting, so I normally take more than one serving at a time (to be completely honest with you, I might have had two and a half bowls of borscht today).
When to Serve Borscht?
It looks so pretty and festive enough to serve it for holidays but it's also a great everyday soup since it takes no longer than 30 minutes to make! It's a go-to winter meal in my household and I hope it'll become yours too once you give it a try.
Why not make this delicious soup for Christmas? I guarantee it'll be a major highlight of your holiday menu!
Borscht is eaten all year round in Slavic households. There are many variations of it depending on what is in season. You can make a delicious chilled borscht in the summertime that uses buttermilk instead of broth as a base and is served with hard-boiled eggs.
Traditionally, borscht is eaten for lunch as any other soup. I think Soviet canteens contributed to this a lot, as lunch consisted of the first course – soup, the second course – usually meat with a side dish, most commonly potatoes (except Thursday – it was a fish day) and the third course – compote. This system is still commonly used. You can ask a Russian: "What would you like for the first (course)?" They would know you mean soup and not salad.
How Does Borscht Taste Like?
The combination of sweet and sour flavors makes borscht taste delicious. The sweetness of beets is balanced with a little acidic note of either tomatoes or lemon juice (I use both). If you haven't tried borscht, your time is now! I believe this soup is truly one of a kind.
Is It Borsch or Borscht?
Borscht (pronounced bawr-sch) is also spelled borch, borsch, borshch, borsht, bortsch, and борщ which are all different spellings of the same word. Wikipedia says that the English spelling of the word "borscht" derives from Yiddish.
Borscht is also known as barszcz (Polish), barščiai (Lithuanian) and borş (Romanian and Moldovan).
Where Did Borscht Come From?
Borsch originates from Ukraine but it became popular in Russia, having acquired new flavors and ways to cook it. Only Russian dumplings compete with in being the most important national dish. It is loved not only in Russia and Ukraine, but also in Poland, Lithuania, Romania and Moldova, as well as other post-USSR countries.
Is Borscht Russian or Ukrainian?
Borscht is both Russian and Ukrainian, since to this point in time it is deeply rooted in cultures of both countries becoming a beloved staple throughout Eastern Europe. Borscht is iconic for both Russia and Ukraine and surely has a high emotional value for both countries.
How Is Russian Borscht Different from Ukrainian Borscht?
Nowadays, Russian borscht is not much different from the Ukrainian one. I would say the main difference is that in Ukraine you serve borscht with pampushki (Ukrainian garlic bread) and garlic-infused lard (salo). In Russian it is more common to eat borscht with rye bread.
How Do You Make Borscht?
Each family has its own recipe of borsch. If you ask 1000 Ukrainian housewives about how to cook Ukrainian borsch, you will get 1000 different versions of it that will all taste great. There is no authentic recipe but there are traditional ingredients that can be used in different ways.
Some add mushrooms, some beans, others smoked ham or fish. Borscht can be made with meat broth, may be vegetarian, may be with tomatoes or tomato paste, sweet pepper, celery, and can even be eaten cold.
Traditionally, first you make beef broth, then Ukrainian "sofrito" with julienned, diced or grinded veggies, then combine and add potatoes and cabbage.
I share the recipe for my go-to vegetarian borscht in the end of the post.
What Is The Main Ingredient in Borscht?
Red beets! One of the most unreasonably underused root vegetables. Red beet has a number of health benefits being rich in nutrients and dietary fiber.
Red beets give borscht its ruby color and sweetish flavor. To make my borscht even more intensely colored I add lemon juice to the soup.
What Are The Ingredients in Borscht?
There is an uncountable number of the varieties of borsch but I will share a classic easy Russian/Ukrainian borscht recipe today.
To make borscht you need:
carrots;
onions;
red beets;
broth (I use vegetable broth);
potatoes,
white cabbage;
bay leaves;
lemon juice;
tomato paste;
minced garlic;
chopped dill;
sour cream to garnish.
Why Is Borscht Healthy?
Borscht is nutrient-dense and can be a part of a calorie-controlled diet. Borscht contains a variety of vegetables like carrots, onions, beet roots, cabbage and more. These veggies are rich in antioxidants and vitamins.
Borscht regulates blood pressure and protects heart, liver and stomach.
Borscht is naturally gluten free and low in calories. The version of borscht I will be sharing at the end of the post is one of the healthiest ones out there but it certainly doesn't taste like diet food.
How Do You Make Vegetarian Borscht?
To make borscht vegetarian simply substitute beef broth for a vegetable alternative. For a vegan version simply omit the sour cream.
How Long Can Borscht Keep in Fridge?
Yesterday's borsch tastes the best, so it makes sense to make a big batch. You can store it in the fridge for up to 4 days.
Can Borscht Be Frozen?
Borscht is a perfect ONE-POT meal prep meal which only requires 30 minutes to make! Freeze it in sealed bags or containers for up to 3 months.
Alternatively, you can freeze the cooked "sofrito" and use it every time you want to make borscht.
Keep in mind that potatoes and cabbage might change their texture after freezing.
How Do You Serve Borscht?
Serve borscht with a spoonful of sour cream and chopped fresh dill. Season with salt and pepper to taste and enjoy it with a slice of toasted rye bread or pampushki (Ukrainian garlic bread)!
Here is the full recipe (and a video recipe) of borscht for you to enjoy! Let me know how you like it in the comments down below!
Easy Russian Borscht Recipe
This easy one-pot vegetarian Russian Borscht recipe only takes 30 minutes to make! Delicious and wholesome winter soup full of nutrients!
Ingredients
2

tablespoon

vegetable oil

1

medium-sized onion

diced

2

medium-sized carrots

diced

2

medium-sized red beets

diced

2

qt or 2 liters

vegetable broth

hot

2

potatoes

diced

1/4

white cabbage

chopped

2

bay leaves

2

tablespoons

lemon juice

2

tablespoons

tomato paste

2

cloves

garlic

minced

2

tablespoons

fresh dill

chopped

salt and black pepper to taste

sour cream

to garish

rye bread

to serve
Instructions
Heat a large pot or Dutch oven over medium high heat. Add olive oil, onions, carrots and beets and sautée for about 5 minutes, stirring often.


Add hot vegetable broth, potatoes, cabbage and bay leaves to the pot, put the lid on and cook for 10 minutes.


Add lemon juice, tomato paste, minced garlic, chopped dill and salt and pepper to the pot. Cover and cook for 5 more minutes. Let rest with the lid on for 15 more minutes before serving.


Garnish with a spoonful of sour cream and fresh dill. Serve with rye bread. Enjoy!
Nutrition Facts
Easy Russian Borscht Recipe
Amount Per Serving
Calories 105
Calories from Fat 27
% Daily Value*
Total Fat 3g 5%
Sodium 1015mg 42%
Potassium 444mg 13%
Total Carbohydrates 17g 6%
Protein 2g 4%
* Percent Daily Values are based on a 2000 calorie diet.
If you like this recipe, please rate it below!
Here are some more Russian recipes that you might like: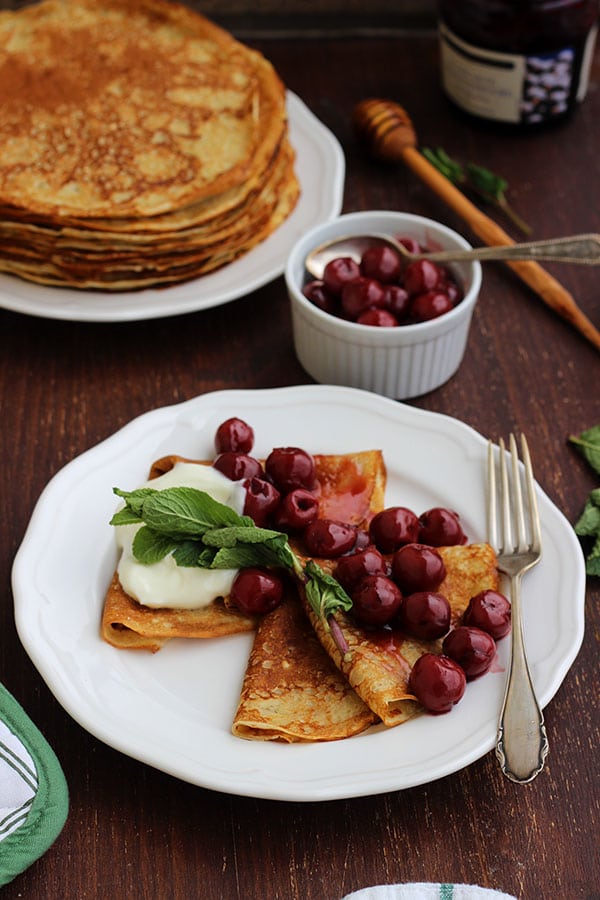 Cheers,
Elena