Top-10 fall-inspired Vegan Soups for Thanksgiving or Christmas dinner menu. These comforting and beautiful vegan soups will make your guests beg for an extra serving!
Thanksgiving is approaching fast! If you fell like summer picnics and grilling happened a few weeks ago, you are not alone. I'm also wondering where did the time go?
We are suddenly in the middle of the pumpkin season thinking about Thanksgiving dinner menu. If you are planning to include vegan recipes in your menu, I got you covered. Best vegan appetizers and salads for Thanksgiving are already live and there is plenty for you to choose from!
Now it's time to post a roundup of the most comforting vegan soups for Thanksgiving. Pumpkin, butternut squash, mushrooms, parsnips, beans, kale and all the delicious fall produce makes these soups healthy and nutritious. All the recipes are from my fellow food blogger friends!
Let's face it, beautiful presentation can make or break a soup. I found vegan soup recipes for you that don't only taste great but also look spectacular. From traditional pumpkin soup to vegan chowder, find a perfect thanksgiving soup to your taste and make your guests drool!
Here is a list of 10 best vegan soups for Thanksgiving! You can scroll through a quick slideshow of the soups in this vegan Thanksgiving soups web story.
Make sure to check the next posts featuring 10 best vegan main dishes, sides and desserts. Make sure to check my favorite vegan Christmas recipes including festive German mulled wine (Gluhwein) that is to die for!
Vegan Soups for Thanksgiving
Easy pumpkin soup with millet served in pumpkin bowls is nourishing and comforting while being gluten-free and vegan! This recipe doesn't require a blender!
2. by Happy Kitchen.Rocks
Gluten free, vegan sweet potato and lentil soup is a healthy and tasty meal that will satisfy both your hunger and your tastebuds. This delicious vegetable soup is smooth and filling as well as simple to make. Sweet potato and lentil soup comes out creamy, savory, and decadent thanks to ingredients that not only taste amazing, but are nourishing for your body as well.
Creamy, flavorful and rich roasted butternut squash soup with carrots and garlic recipe. A great soup to serve at your Thanksgiving table!
Delicious and easy silky vegan cauliflower soup recipe ready in less than 30 minutes! Rich, creamy, healthy and comforting winter soup packed with nutrients.
This slow cooker vegan chili recipe will delight your taste buds. It's not only wholesome but delicious and easy to make. A vegan twist on this classic comfort food for those chilly days ahead makes for a healthy dinner packed with nutrients brimming with flavor!

This easy one-pot vegan borscht recipe only takes 30 minutes to make! Delicious and wholesome winter comfort soup full of nutrients!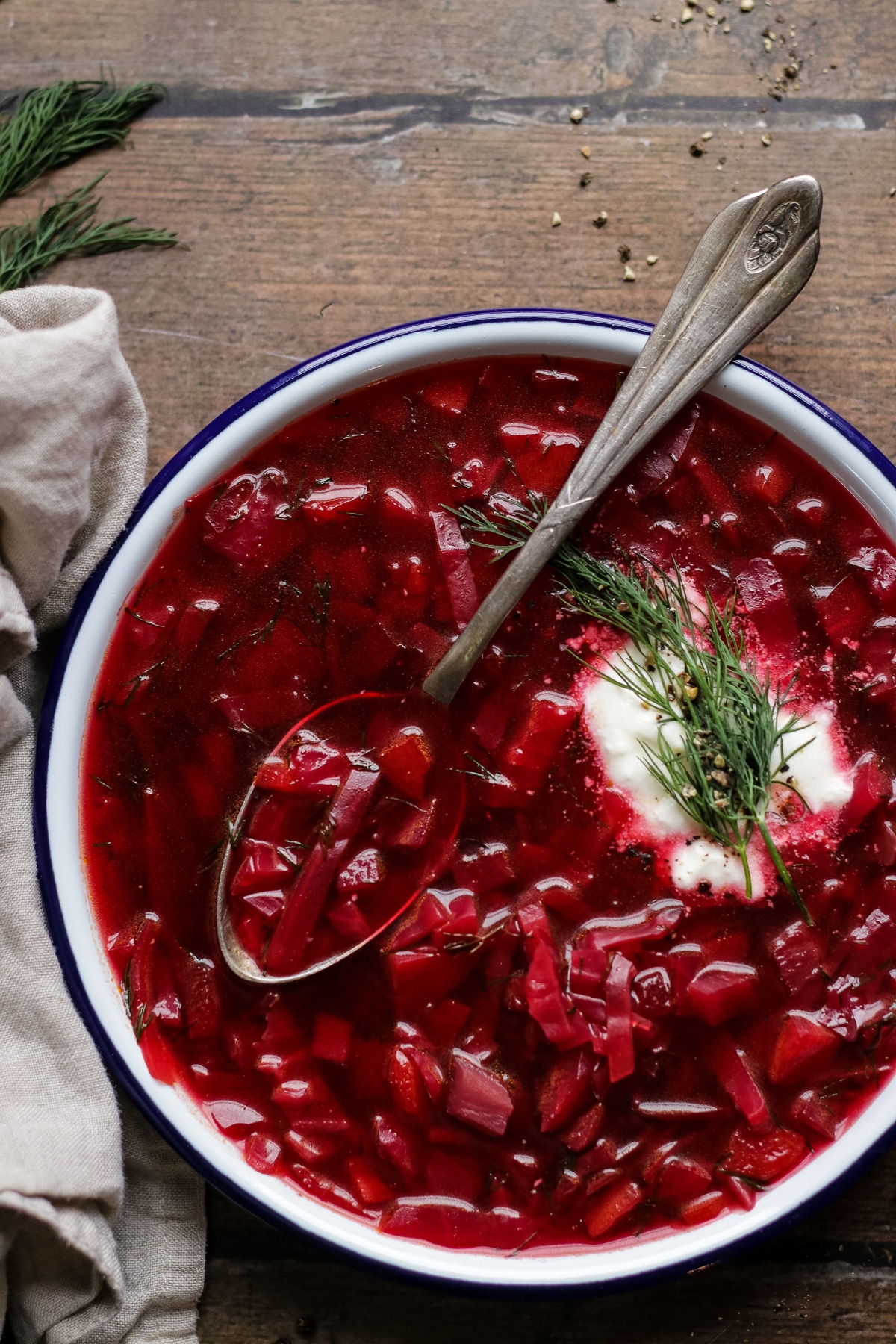 7. by Happy Kitchen.Rocks
This hearty vegan minestrone soup is packed with seasonal vegetables, beans, lentils and whole grains. Perfect comforting vegan winter soup full of flavor and nutrients!
Garlic and parsnips are roasted with onions, rosemary, and olive oil, then pureed with white beans and vegetable broth. It's impossible creaminess comes from the beans, making this feel super-rich without being heavy. One of the most easy and smooth vegan soups for Thanksgiving.


This Vegan Mushroom Soup is so hearty and delicious and it's dairy free. With delicious flavors from rosemary and coriander, this soup is healthy, low calorie and just as satisfying and creamy.

Incredibly creamy and easy vegan corn chowder soup recipe is ready in under 30 minutes. This smoky corn chowder is made of corn, zucchini, bell peppers, potatoes, coconut milk and millet.