5-minute Easy Vegan Tacos
Healthy and delicious 5-minute easy vegan tacos recipe. Satisfying, delicious, quick tacos, loaded with healthy fillings that you can easily customize.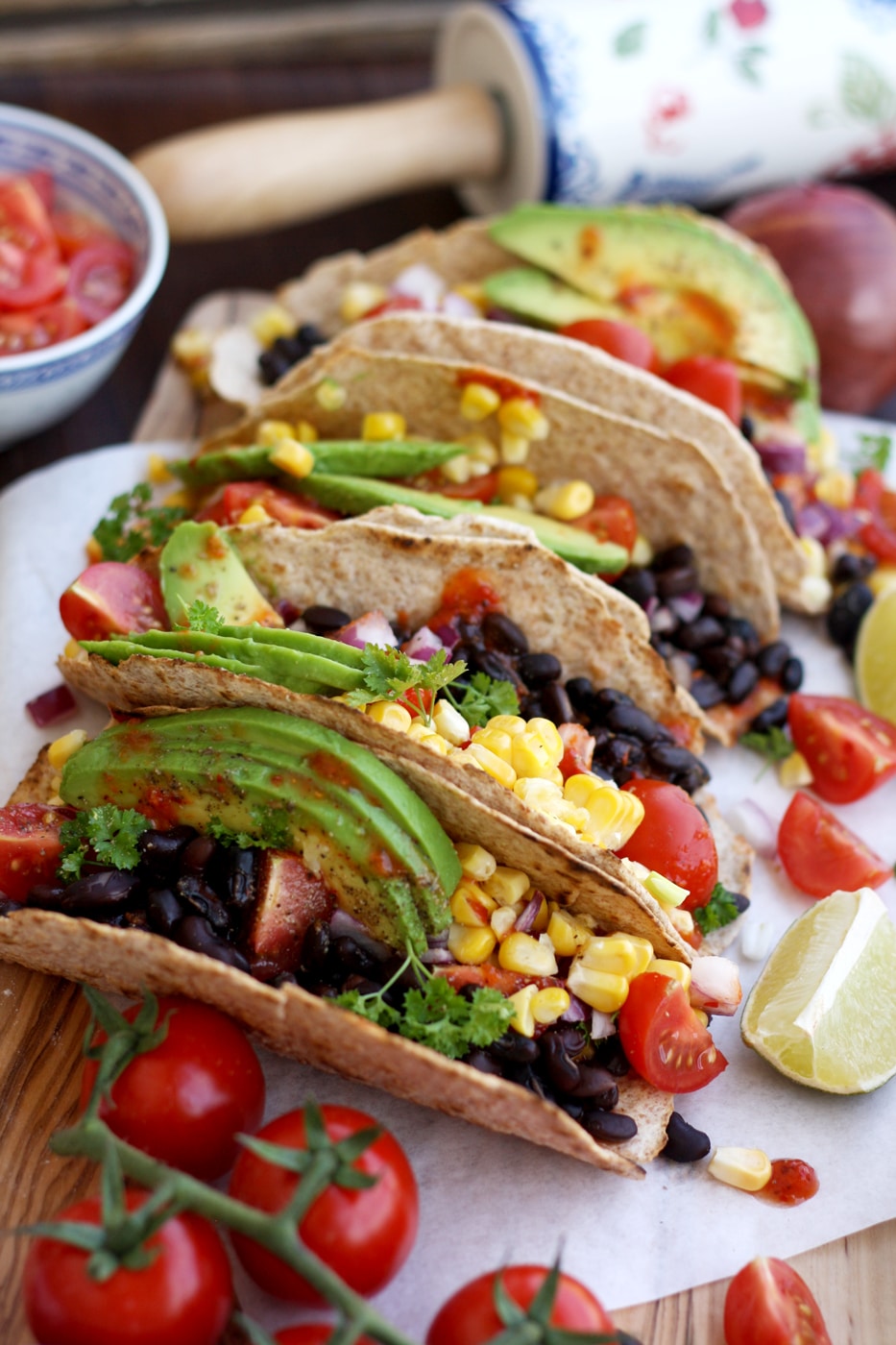 Let's face it, sometimes we just don't want to cook but want a delicious dinner that kind of cooks itself. That's the case of these easy 5-minute vegan tacos. No fuzz at all, just pre-made whole wheat tortillas (I keep them in the freezer for situations like this and then just microwave), black beans, corn (canned or grilled), avocado slices, quartered cherry tomatoes, chopped onion, fresh parsley, a splash of lime juice and a drizzle of your favorite hot chili sauce.
There is barely anything easier than that. Most of the "work" is basically chopping onions, slicing avocado and quartering cherry tomatoes. So, the rest is just assembling these gorgeous healthy tacos I can't wait to make again.
Whether it's a Taco Tuesday or just plain old taco night, why going to a restaurant if you can make delicious and healthy tacos at home? Here is a proof that an impressive and mouthwatering meal doesn't need to take hours of time. It took me 5 minutes to make these beauties, which means that if you have all the ingredients in your pantry, you are 5 minutes away from taking your first bite of these delicious vegan tacos!
There is nothing wrong with non-vegan tacos, but there is definitely a way to make healthy tacos too. Focusing on whole grains, veggies and your favorite seasoning will do the trick. The result is satisfying, delicious, quick tacos, loaded with healthy fillings.
Another good thing about these tacos is that you can customize them as you want. Just stuff your whole wheat tortillas (or corn tortillas if you prefer) with pretty much anything you have on hand: think your favorite veggies, leftovers like roasted mushrooms or tofu, vegan (or non-vegan) cheese, etc.
How to Make 5-minute Vegan Tacos
For this recipe I used whole wheat tortillas that I made ahead from scratch and froze. You don't have to do that but if you are going for a healthy option, non-processed food is always a good choice. Otherwise, use whole wheat or corn tortillas from the store.
I used black beans, leftover grilled corn on the cob, sliced avocado, quartered cherry tomatoes, chopped onion and fresh parsley as fillings. I seasoned these tacos with cumin, salt and freshly ground black pepper, lime juice and my favorite hot sauce, which you might not even heard of 🙂
It's a Georgian hot sauce called Ajika, made of red peppers, garlic, fenugreek, coriander, dill and walnuts. You can use your favorite veggies (or whatever is in season), add taco seasoning and any other hot sauce of your choice. That's it! Your 5-minute taco dinner is ready!
Check the recipe below and enjoy this Taco Tuesday (or whatever day of the week it is):
| | |
| --- | --- |
| | |
Assemble your tacos: Distribute corn, black beans, avocado slices, quartered cherry tomatoes, chopped onion and parsley among tortillas. Season with ground cumin, lime juice, salt and freshly ground black pepper. Drizzle with your favorite hot chili sauce. Enjoy!
Read the entire post to get an idea of how you can customize this recipe.
Here are some more vegan Mexican-inspired dishes that surely deserve your attention:
Have a great Taco Tuesday!
Elena
Save
Save
Save
Save
Save
Save
Save
Save
Save