The ultimate collection of vegan wrap recipes, showcasing wholesome veggie, hummus tortilla or lettuce wraps with a variety of fillings such as falafel, tofu scramble, roasted vegetables, chickpea salad, vegan "chicken" and beyond. These easy and delicious vegan wrap ideas promise a burst of flavor and nourishment in every satisfying bite – the ideal solution for a quick, make-ahead lunch for busy weekdays!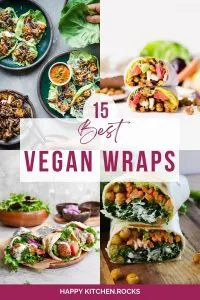 If you are looking for ideas for vegan wraps to enjoy for a quick lunch on-the-go, you've come to a right place.
Vegan wraps are the perfect canvas for showcasing a world of flavors while promoting a sustainable, plant-based lifestyle. Whether you're a seasoned vegan, a flexitarian, or simply looking to add more delicious and nutritious meatless options to your diet, this recipe collection is your gateway to discovering an array of mouthwatering and versatile vegan wrap recipes that are as satisfying as they are wholesome.
These vegan wraps are packed with fresh ingredients, bold flavors, and all the nutrients your body craves. From savory to sweet, and everything in between, I've got you covered with a variety of vegan wrap ideas that will cater to your taste buds and nourish your body.
If you are looking for more lunch ideas, make sure to check these 21 Healthy Vegetarian Lunch Box Ideas That Are Actually Delicious and 15 Best Vegan Sandwiches.
These vegan wraps are:
delicious
portable
perfect for a quick lunch
can be eaten cold
easy to make
full of flavor
high in fiber
allergen-friendly
low in saturated fat
kid-friendly
nutrient-rich
100% plant-based
easily customizable
perfect to make ahead
can easily be made gluten free
Best Tortillas For Wraps
The best tortillas for wraps would be 12″-13″ (30-33 cm). You can buy them on Amazon. I recommend Mr. Tortilla Healthier Burrito Wrap. It's multigrain and it's large enough to hold all the fillings.
Another option would be to make it yourself using this homemade whole wheat tortilla recipe.
What to Serve With Vegan Wraps?
These vegan wraps make for a complete meal but can be served with a variety of sides and accompaniments to create a well-rounded and satisfying meal. Here are some delicious options to serve with your vegan wraps:
Salad: A simple green salad with fresh leafy greens, tomatoes, cucumbers, and your choice of dressing pairs wonderfully with vegan wraps. You can also make a more substantial salad by adding ingredients like chickpeas, roasted vegetables, or avocado.
Roasted Vegetables: Roasted or grilled vegetables, such as bell peppers, zucchini, eggplant, brussel sprouts or sweet potatoes, add a delightful texture and flavor contrast to your wraps.
Hummus and Dips: Serve vegan wraps with a side of hummus, guacamole, fresh tomato salsa, tahini sauce, baba ganoush or dairy-free tzatziki for dipping. These creamy, flavorful dips complement the wraps nicely.
Fruit: A fresh fruit salad or a plate of sliced fruit like melon, pineapple, or berries can provide a refreshing and sweet contrast to the savory flavors of your wraps.
Soup: A hot bowl of vegan soup, such as tomato basil, sweet potato lentil soup, or vegetable soup like vegan minestrone, can be a comforting and hearty addition to your meal, especially during colder months.
Pickles and Olives: A selection of pickles (especially Russian dill pickles and pickled tomatoes), olives, and marinated vegetables can add a tangy and briny element to your vegan wrap experience.
Grain or Grain Salad: Cook up a batch of quinoa, couscous, or brown rice and serve it as a side dish or prepare a grain-based salad with vegetables, herbs, and a flavorful dressing.
Vegan Coleslaw: A crunchy vegan slaw made with cabbage, carrots, and a vegan mayo-based dressing is a great side dish that complements wraps, especially those with a bit of heat or spice.
Chips, Fries or Potato Wedges: For a bit of indulgence, serve your vegan wraps with a side of baked sweet potato fries, tortilla chips with salsa, or crispy baked potato wedges.
Vegan Wrap Ideas
From protein-packed classics to refreshing summer wraps, let's dive into the world of creative and delicious plant-based wraps! You can quickly swipe through them in this vegan wrap web story or scroll down for recipes and descriptions.
Vegan Tortilla Wrap Recipes
Vegan Lettuce Wrap Recipes
Other Vegan Wraps Recipes